Family Owned Business for Nearly 70 Years!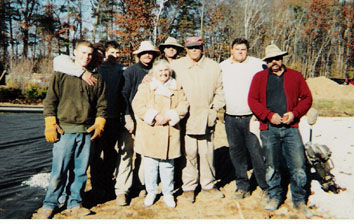 Our firm has given back much in labor, trees, shrubs, and stone materials to the surrounding community projects and Memorials. This has been our way of thanking the community and everyone that has helped us grow our business.
History of our Firm
Walter Lang started his landscape career in 1949 as an independent landscape contractor while brokering nursery products and plant materials throughout the New England region. With much success, Walter and Martha Lang opened their first nursery and garden center (Lang's Colonial Gardens), in Nashua N.H. in 1963.
As the family grew along with the business, Lang's Incorporated in 1986, (Lang's Landscape Service, Inc.) and relocated in Greenland, N.H.
Our nursery and landscape center is located at 680 Portsmouth Ave, open seven days a week from March 15th through December 21st. We also may be reached on our website year-round.
Our firm is staffed with family members to best serve your needs and answer your questions:

Zourie, Accounting
Cindy, Nursery Manager
Susan, Florist
Martin, Yard Manager
Andrew, Landscape Design/ Horticulturist
Peter, Stone/Metal sculpturist
Matthew, Landscape Design/ Certified Arborist
Walter, Landscape Architect/ Founder
Lang's offers a wide variety of landscape services which includes landscape design/construction and installation of:
trees, shrubs, sod lawns, flower gardens
hardscapes walks, walls, patios firepits outdoor living areas
waterfalls and ponds
night lighting
irrigation
Lang's Landscape Service has had the privilege of working for Anheuser Busch Breweries from 1970 through 1997. During this period of time, we landscape both the tour facilities, Hamblet, Hops garden, Employee and Executive patio areas and the development and installation of their employee exercise area and soccer fields.
Our landscaping expertise was called upon to landscape the Pennichuck Water Works New Water purification plant in Merrimack N.H. Nashua Corporation, Atletic Field at Bishop Gurtin High school and Marshell Farms Development in Exter N.H. along with numerous private homes and businesses as to acquaint you with our professional landscaping expertise. You can review the many placks and letters that grace our office walls recognizing our firm for its landscape excellence and achievements.
We have enclosed pictures of landscape settings using the different elements of design. We work with many types of stone materials and ornamental plants so please visit our nursery and view the lovely garden areas. It will answer many of your questions.
It has been a pleasure of introducing you to our firm. Our initial consultation with you is without any obligation. Please consider us for your next landscape project.
What Our Clients Have to Say
We are eternally grateful for the wonderful transformation. Special thanks to Mr. Lang for supervising, Andy for making a wonderful plan come to life, Matty for the water feature design, Marty for the great patios, Peter for your heavy equipment expertise and thank you to all the helpers!
To everyone at Lang's, thank you!! Before Lang's came, we had a barren hill leading to the front of our house. After Lang's came with Matthew's design and Lang's hard work, we have natural stone steps with a rock garden's nooks and crannies leading invitingly to the front door. Thank You!
Just a note to tell you how very much I am enjoying the Landscape design that you so wonderfully created in my yard. I found that Matthew, Peter, Andrew and your crew did exactly what they said they would do. I would hight recommend you to anyone, and it will be a pleasure to do so.
We can't thank you enough for our finished landscape that is flawless in design and detail. Your design enhanced the style of our home. We have had so many compliments on the landscaping from family, friends, neighbors and total strangers. Above all, we were so impressed with your work ethic. Everyone involved was organized, detail oriented, neat and professional. We will enthusiastically refer the Lang Company to anyone!
Thank you so much for all the work you did on our backyard. We are so pleased with your service and with the backyard. You transformed our yard into an area where we love to spend time. We absolutely love our patio. Thank you again for the great job you did and please thank your entire crew for all their hard work.
Lang's installed a new patio and landscaping for us. I couldn't be happier. After meeting with 5 different "landscape design" companies, Matthew at Lang's was the only one who provided us with a truly unique design. The job was done earlier than expected and on budget. They listened to and incorporated our ideas as the project progressed (and didn't lose patience, thankfully). Our backyard is now a beautiful oasis for us to enjoy. Many thanks to Matthew and the team at Lang's!
I've had work done by Lang's Landscaping Service for over a decade and they never disappoint. If you live in the Seacoast area of NH, North Shore or Southern ME meet up with these guys before you make your decision. They're down to earth and their workmanship is stellar.